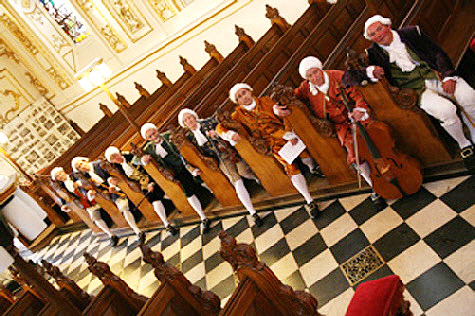 18th Century Concert Orchestra
25th January 2019
CANDLELIGHT CONCERT
Candlelight concert in exquisite 18th Century costume, at Christ Church,Kings Rd., Higher Bebington, Wirral CH63 8LX. 7.30pm
26th January
PLAY BAROQUE!
Play Baroque! returns to Christ Church Community Centre, Kings Rd., Higher Bebington, Wirral CH63 8LX
10.00am-4.30pm.
Please contact info@18thcentury.co.uk for more information.
Play Baroque! will be open to players of strings, flute, oboe and bassoon.
18th February 2017
LA FOLLIA
Programme to include
Geminiani – Trio Sonata no 12, La Follia
Corelli – Christmas Concerto
Vivaldi – La Follia Variations
Tickets – £15 (£10 if participating in PLAY BAROQUE!) from 0151 334 1956 at Christ Church, Higher Bebington, Wirral CH63 8LX
1st and 2nd July 2016
Berrington Hall (National Trust), Leominster
Capability Brown weekend
Trio Sonatas in the dining room from 11.30 – 3.00pm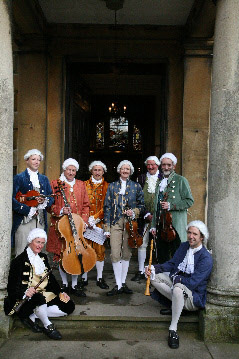 18th Century Sinfonia
14th December 2018
HANDEL –  MESSIAH
St Alkmund's Church, Whitchurch
7.30pm
22nd April 2017
MOZART REQUIEM
Ellesmere Port Music Society
Ellesmere Port Civic Hall
7.30pm
14th April 2017
BACH ST. JOHN PASSION
St. Mary's Church, Nottingham
John Keys
1st April 2017
BACH OVERTURE, SUITE IN D
Handel Dixit Dominus
Bach Magnificat
Keith Orrell and the William Byrd Singers
RNCM 7.30pm
25th March 2017
HANDEL –  MESSIAH
Darius Battiwalla
Sheffield Philharmonic Choir, Victoria Hall, Sheffield, 7.00pm
18th February 2017
PLAY BAROQUE!
Christ Church, Higher Bebington, Wirral, CH63 8LX.
10.00 – 4.00pm £40 for the day
To take part contact – info@18thcentury.co.uk  or 0151 334 1956